The Art of Learning like a Champion!
Give your child the tools needed to understand How to Learn and not just What to Learn. Join us this June!
The Art of Learning like a Champion!
Give your child the tools needed to understand How to Learn and not just What to Learn. Join us this June!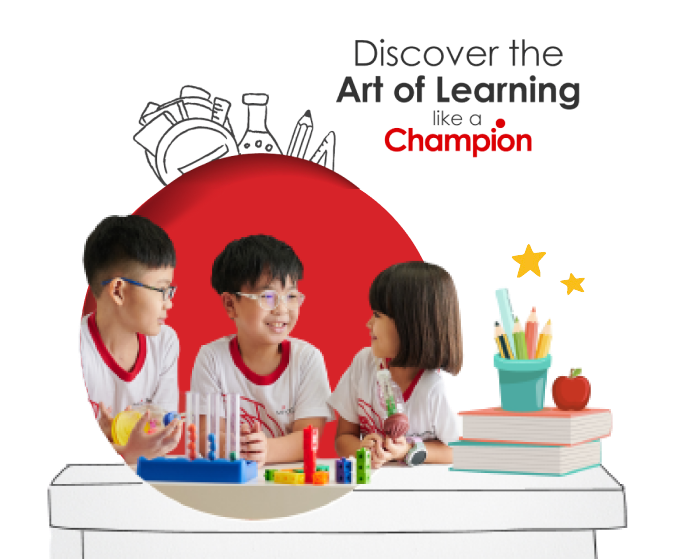 What Is Art of Learning?
Learning is a skill. And like any skill it can be enhanced and made more effective by applying the right techniques and practices. With our unique 3 Minds model of education, The Champion, Learning and Creative Mind, MindChamps can help your little one develop a Champion Mindset, boost their confidence and unlock their full potential.
We believe that knowing how to learn is just as important as knowing what to learn. In this workshop we will introduce your child to the skills, attitudes and values necessary for success in the world of tomorrow.
Open your child's Learning Toolbox with our Art of Learning workshops below!
ART OF LEARNING (ENGLISH)
Primary 1-2
Mission Possible: Unlocking the MindChampion in You
Get your little one off to a great start by:
Developing a Champion Mindset.
Gain confidence through self-awareness and visualization.
Engaging their imagination and minimizing the barriers to creative thought.
Participate in Brain Gym exercises that help to develop locomotor movements and increase alertness.
Learn to embrace creative flexibility and fluency and minimize barriers to creative thoughts.
Learn practical strategies that will enable child to better manage stress and procrastination.
Participate in a range of multiple-mindset activities to broaden perspectives and strengthen problem-solving skills
ART OF LEARNING (CHINESE)
Primary 1-2
Chinese Interactive Reading Camp
– The Gift of Love
<爱的礼物> — 绘本主题阅读营
During this camp, we will take your child on a valuable and unique learning journey filled to the brim with love! Using attractively illustrated and engaging picture books as a guide, your child will participate in a variety of handicraft and creative writing activities. This unforgettable journey will enable your child to build an image of you in their minds and reflect on the love you have given to them. Through organizing their thoughts, your child will come to understand the hardships parents go through to raise their children and learn the importance of showing gratitude and empathy. In this camp, your child will:
Experience multi-modal learning using both the images and texts in a picture book
Recognize and understand the vocabulary used in the story
Participate in activities such as handicrafts, painting and creative writing while listening to the story
Exercise their imagination and expand their thinking by writing their own story
Learn to use Chinese more confidently through presentation and performance-based activities
Enquire about our Holiday Workshops today!
Simply fill in and submit the form below and we'll be in touch with you soon to share more details.