After School Care
After School Care
Monday
Tuesday
Wednesday
Thursday
Friday
1.45 – 3.00 pm ​
Arrival & Lunch​
3.00 – 4.00 pm​
Art of Learning
Chinese*
English
Mathematics
The Champion Mindset Booster​
4.00 – 4.45 pm​
Let's Energise!​
4.45 – 6.00 pm​
Connecting as One – Champion Mindset Moments​ and Homework Success - The Champion Mindset Way!
6.00 – 7:00pm​
Free play and Home​
*MindChamps Primary Success Chinese (Optional)

Monday
Tuesday
Wednesday
Thursday
Friday
1.45 – 2.45 pm ​
Arrival & Lunch​
2.45 – 4.15 pm​
Connecting as One – Champion Mindset Moments​ and Homework Success - The Champion Mindset Way!
4.15 – 4.30 pm​
Let's Energise!​
4.30 – 6.00 pm​
Science​
Mathematics
English
Chinese
Art of Learning
6.00 – 7:00 pm​
Free play and Home​
*MindChamps Primary Success Chinese (Optional)

Holiday Programmes
​
Monday​
Tuesday​
Wednesday​
Thursday​
Friday​
7.30 – 8.30 am ​
Arrival and Breakfast
8.30 - 9.30 am
Morning Activities
MindChamps Learning Journey
Morning Activities
9.30 - 10 am
Rest and Refresh
Rest and Refresh
10 - 12 pm
MindChamps Primary Success - Chinese
MindChamps Primary Success - English
MindChamps Primary Success - Mathemathics
MindChamps Primary Success - Introduction to Science
12 - 1.30 pm
Lunch and Rest
1.30 - 2 pm
Energizer
Reflections of Learning
Energizer
2 - 5 pm (Tea-break within)
Champion Mindset Theatre
MindChamps Discovery (Experiments)
Champion Communicator
Champion Mind and Learning Mind Masterclasses
5 - 6 pm
Structured Outdoor Experience
6 - 7 pm
Free Play and Home​
*Timetable is subjected to changes
​
Monday​
Tuesday​
Wednesday​
Thursday​
Friday​
7.30 – 8.30 am ​
Arrival and Breakfast
8.30 - 9.30 am
MindSport
MindChamps Learning Journey
MindSport
9.30 - 10 am
Rest and Refresh
Rest and Refresh
10 - 12 pm
MindChamps Primary Success Chinese
MindChamps Primary Success English
MindChamps Primary Success Mathematics
MindChamps Primary Success Techniques/Science
12 - 1.30 pm
Lunch and Rest
1.30 - 2 pm
Energizer
Reflections of Learning
Energizer
2 - 5 pm (Tea-break within)
Champion Mindset Theatre
MindChamps Discovery (Experiments)
Champion Communicator
Champion Mind and Learning Mind Masterclasses
5 - 6 pm
Structured Outdoor Experience
6 - 7 pm
Free Play and Home​
*The above schedules serve as a guide. While programmes are fixed, the timings are subject to change based on the
discretion of the Centre.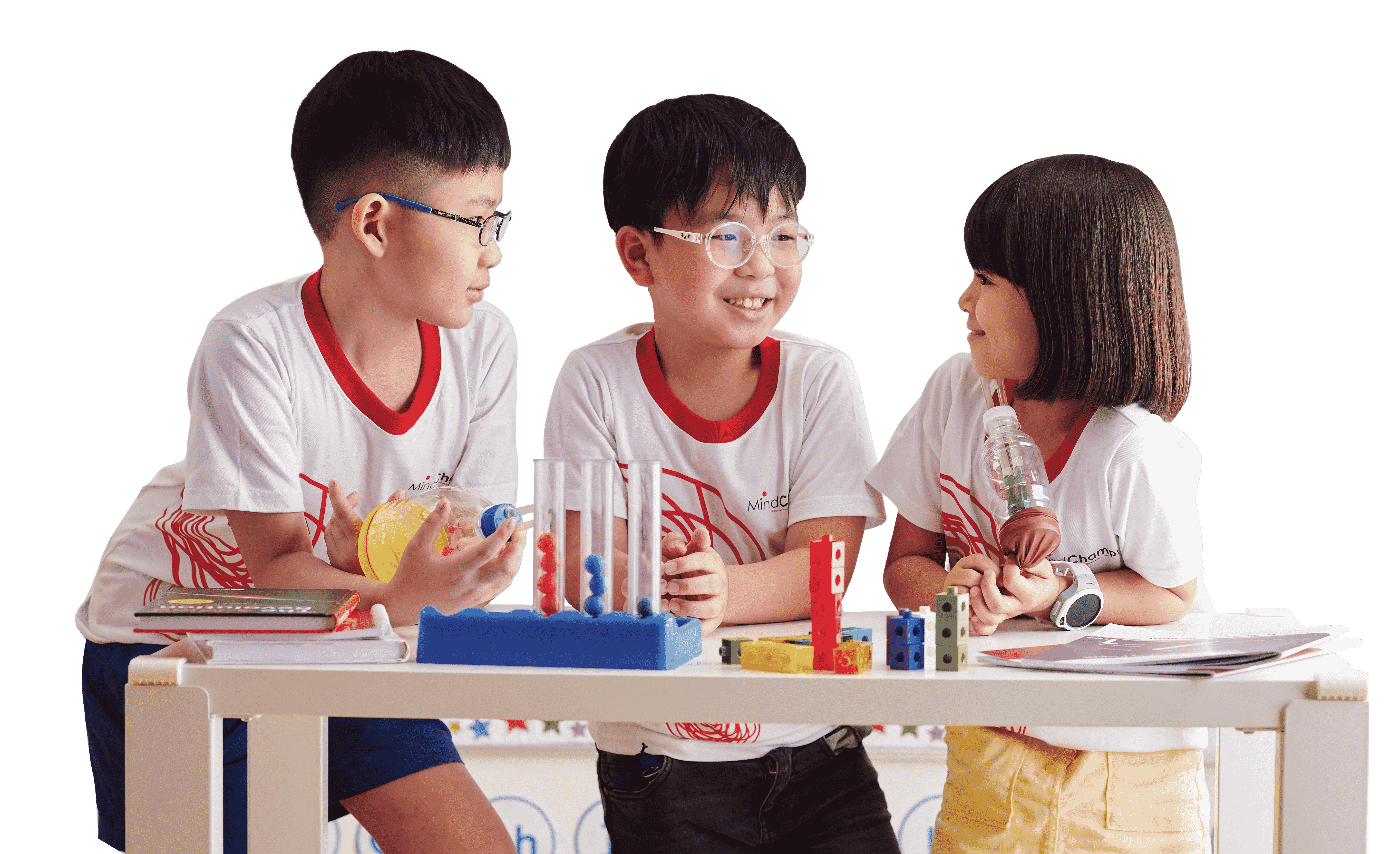 Weekend Primary Success Programme
Powered by MindChamps Enrichment Academy
Our MindChamps Primary Success Programme helps your Primary 1 – 5 child stay ahead of the curve by building a strong grasp of concepts and in-depth subject knowledge.
With a curriculum that complements the MOE syllabus and a unique teaching approach, our highly experienced Specialist Subject Coaches create the ideal environment for strengthening your child's academic foundations.
We understand that your child may need more time to digest concepts and master content. This is why our MindChamps Primary Success Programme is devoted to teaching and reinforcing subject-specific knowledge. Guided by our revolutionary Optimal Flow Method™, your child will learn to enhance their understanding of new concepts by linking back to previous knowledge.